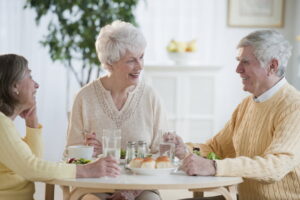 Healthy and easy meals for seniors
Breakfast
The daily serving recommendations for seniors, according to the Department of Agriculture, specifies seniors need 65 grams of protein a day. A "good" sources of protein is important with every meal, but especially with breakfast," as seniors are just beginning their day. While a frequent component of a balanced breakfast, nuts and seeds can be difficult for some seniors to digest, so look to avocados as a substitute.
Warm oatmeal and berries. Place frozen or fresh berries in a crockpot at a low heat setting. Add a pat of butter and one serving of old-fashioned oats and water. Cover and cook on low for several hours (or overnight). This will give it the consistency of bread pudding. (The easier option is adding berries to warm oatmeal.)
A hard-boiled egg. Accompany with a side of fresh fruit and a slice of whole wheat toast.
Whole grain pancakes or waffles. If you can find one, choose a brand that contains chia seed which is more stable than flaxseed and contains essential fatty acids and proteins. Then top with fresh berries. For protein, also eat a handful of walnuts or almonds.
Yogurt parfait. Mix together yogurt, nuts and fruit. It's a good combo of healthy fat, Vitamin C and carbohydrates.
Power toast. For healthy fat and some protein, spread peanut butter or almond butter on whole wheat toast. Enjoy fresh fruit on the side.
Poached egg. Place egg on top of whole wheat toast and steamed asparagus. Top with a small amount of butter.
Lunch
The USDA recommends that seniors get 2-2 1/2 cups of fresh vegetables daily (such as kale, spinach and carrots), lunch is the ideal meal for loading up on those colorful vegetables. Feel free to add leafy greens to any of these meals for additional midday nutrients. Lunch should be the most substantial meal of your senior's day and suggests steaming or sautéing all vegetables for easy chewing.
Quinoa salad. Saute pre-chopped stir-fry vegetables (onion, red pepper, mushrooms). Combine with pine nuts or pecans and cooked quinoa. Toss with Italian salad dressing. Eat fresh, warm or cold. Keeps well refrigerated. The USDA recommends steaming or sautéing vegetables in olive oil instead of boiling, which drains the nutrients.
Eggs and red potatoes. Melt a pat of butter in a skillet. Chop up potatoes and add to skillet over a medium heat. Cover skillet for two minutes. Then, pour scrambled eggs over potatoes, add pepper and toss until eggs are hot. Rather than season with salt, which can lead to water retention and high blood pressure, use fresh herbs and spices.
Cottage fries. Slice parboiled red potatoes. Heat extra virgin olive oil in a skillet and cook the potatoes at a medium heat. Top with leftover vegetables and grated sharp cheddar cheese. Cover, let steam and serve.
Southwest omelet. Beat two eggs. Put 1 tablespoon olive oil in a skillet. Pour in the egg mixture, and add pepper jack cheese chunks and natural salsa or chili sauce. When eggs are firm, fold and serve with sliced avocado. Tip: Chili and spices help boost diminished taste buds.
Salmon wrap. Place canned boneless skinless salmon on a whole grain wrap. Add chopped avocado, tomatoes, greens and plain yogurt. Wrap tightly, cut in half and serve.
Dinner
"Research is supporting lower calorie plans with intermittent fasting and high fat for seniors," this approach helps support brain function and reduce inflammation.
Most dinner menus will call for sauteing vegetables or a protein in a healthy fat such as olive oil, stay away from canola oil which is linked to decreased cognitive function. In addition to extra virgin olive oil, she suggests integrating avocado oil into your cooking.
Baked or grilled salmon. Top each steak with tomatoes, sweet onion, dried or fresh basil, chopped garlic and one tablespoon extra virgin olive oil. Wrap each piece of fish tightly in aluminum foil and place in the oven on a low heat (300 degrees). If the fish is thawed, cook for about 15 minutes. Dinner is ready when the fish is flaky but still moist.
Lamb and potatoes. (If you can keep some parboiled red potatoes on hand, you can prepare fast and easy meals.) Form ground lamb into small meatballs. Tear fresh basil into slivers, or use a pinch of dried basil. Slice pre-cooked red potatoes into small pieces. Slice a clove of garlic. Warm extra virgin olive oil in a skillet. Saute garlic and basil on a medium heat for five minutes. Add lamb and brown. Add potatoes; cover for 10 minutes Toss ingredients; add a dash of ground pepper. Cook for an additional five minutes.
Shrimp and pasta. Heat a pat of butter and one tablespoon olive oil in a saucepan. Add chopped fresh herbs, garlic and a handful of shrimp. Toss and cook until shrimp is done. Place on a bed of pasta and top with chopped fresh tomatoes.
Liver and fennel. Place liver slices in a skillet with extra virgin olive oil. Top with chopped fennel, ted onion and cabbage. Cover and steam until liver is tender. Serve.
Beans and rice. Heat up a can of black, pinto or white beans. Serve with brown rice, oats or barley. You can warm the meal in a crockpot and serve later.
Shrimp and fresh greens. Saute fresh vegetables in a saucepan (again, you can buy pre-cut veggies), with olive oil. Add cocktail shrimp, which can be bought peeled, cooked and chilled. Serve with a berry vinaigrette salad dressing and lime slices.
Southwest chicken salad. Cook boneless, skinless chicken breast on a medium heat in a skillet with extra virgin olive oil. Add salsa. Shred chicken and reserve in refrigerator to use for wraps, salad or soup.
What to eat in between meals
Incorporating nutritional snacks in between meals such as high-fiber rye crisps with swiss cheese or guacamole on top. And, while seniors do need to stay well-hydrated, they are better off taking small sips during the day in order to avoid frequent sprints to the bathroom. A glass of water kept by their favorite chair is the answer. To avoid stomach upset, the water should be room temperature or warm. Add in some lemon, lime or a few berries for extra flavor and they can take small sips all day to stay sufficiently hydrated.