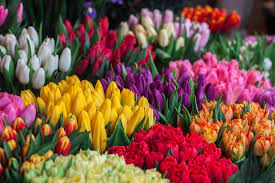 After being cooped up indoors all winter, it will feel great to get some fresh air and sunshine. Keep your older adult comfortable with plenty of layers, a hat, or a light scarf.
For older adults who aren't mobile, simply sitting in a room with windows open to the fresh air is a comfortable way to enjoy nature. Or, sit just outside the house to appreciate the trees and flowers. For some added fun, blow some bubbles!
Many older adults love to visit farmers' markets. Stroll through and shop the fresh produce, lovely flowers, and local products.
Colorful birds also appear when the weather starts to warm up. A window bird feeder or hummingbird feeder near a large window lets your older adult bird-watch whenever they like.
Other ways to enjoy nature include:
Walking around the neighborhood or in the park
Eating a meal outside
Visiting a plant nursery
Taking a scenic drive