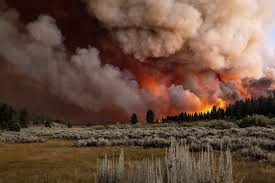 Health:
Air quality has reached unhealthy levels for vulnerable groups including the elderly and those who have suffered a stroke, have diabetes, currently have a respiratory illness or cold, or those with heart or lung issues such as asthma or COPD. Health agencies are advising people belonging to these sensitive groups to stay indoors, limit physical activity both inside and outdoors, close all windows in your home and car, avoid using AC that intakes fresh air from outside, and use fans to circulate the airflow within your home.
Dehydration:
As the smoke blocks out the sun, some elderly individuals may not realize the weather is still warm outside and within the home. Entice your loved ones with flavored waters, lemonade, watermelon, fruit juices, or popsicles.
Confusion:
With the dark outdoor haze, some seniors may be disoriented by the low light whether it is morning or evening. This change in vision and poor air quality can lead to confusion, particularly for those suffering from dementia or memory loss. Try to keep their daily routine as regular as possible.
Stability:
If a senior is experiencing vision changes, headaches, confusion, or dehydration due to the smoke, they may be more vulnerable to a fall. Falls can be very dangerous for older adults so keep items clear from walking paths, use rubber-soled shoes indoors, make sure rugs are secured, and encourage them to use their walkers, canes, or grab bars for stability.
Agitation
The smoke is also known to cause irritation, anxiety, and impatience. The low light and feelings of sluggishness can lead to depression or feeling blue. Activities, music, and art can be great distractions from the dreary haze outside. Be there to listen to their concerns and offer a hand to hold as comfort.
In Calgary, there is a phone number seniors can call if they are feeling distressed with heat, smoke, or air quality, where trained professionals will come and check on the vulnerable. (403-269-5445)